Abu Dhabi: RR has lost the previous two matches and MI has won their previous two. Since 2015, MI couldn't beat RR in IPL and RR didn't taste success at Abu Dhabi yet this season. Stats make look like the match is between two equals but the match turned out to be one-sided barring Buttler's 70 run knock. MI out smarted RR in all the departments to register their 4th win of the tournament and climbed to top spot in the points table.
Surya Kumar Yadav anchors the innings with his 79*
Rohit won the toss yet again and chose to bat once again. The Rohit-QDK pair gave Mumbai a flying start as they stitched a 49-run partnership inside 5 overs before RR's debutant Tyagi removed him with a well-directed bouncer.
RR did the groundwork well as they had a clear plan about who will be bowling to whom. SHreyas Gopal was asked to bowl against Rohit and he didn't disappoint his captain as he got 2 wickets in 2 balls in the 9th over. He first dismissed Rohit with a wrong'un and in the very next ball, he got rid of Ishan Kishan with a catch off Sanju.
Read Also: Have a look at youngsters who can outperform international stars in this years IPL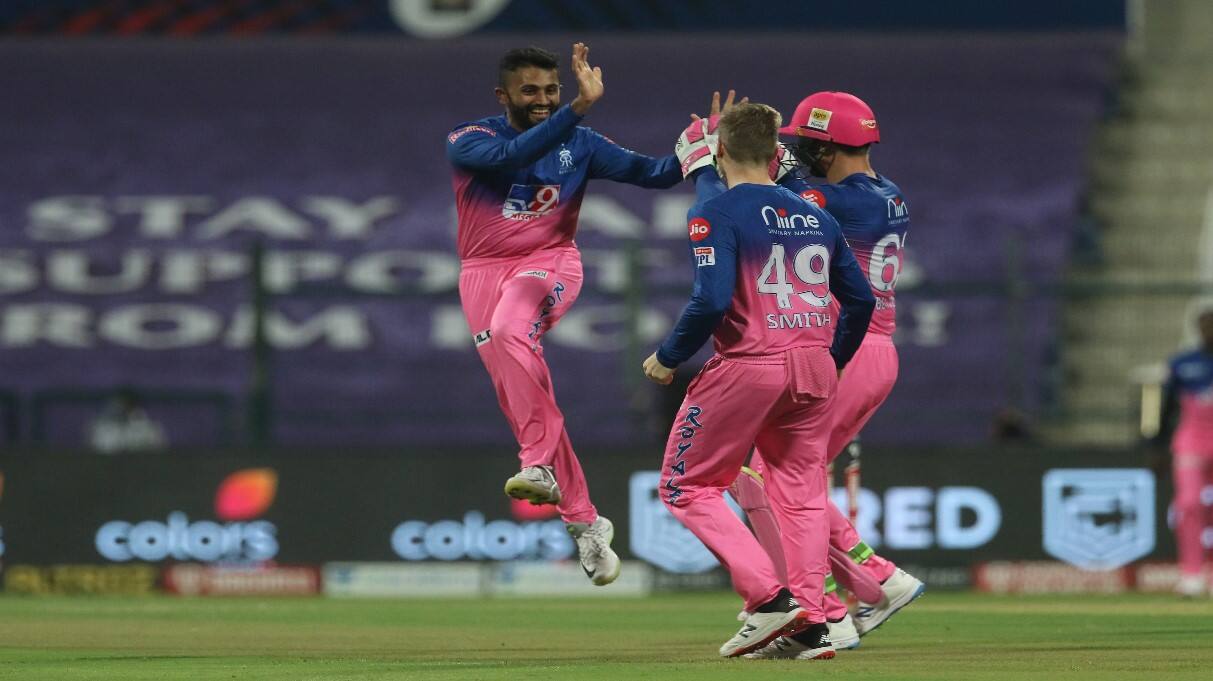 But Surya Kumar Yadav held his wicket at other end. Krunal entered the field after Ishan's departure but never looked comfortable. Krunal struggled throughout his innings and finally holed out to Samson off Archer in the 14th over to get his younger brother to the crease.
SKY-Pandya pair stitched unbeaten 76 runs partnership in just 6 overs. They never got explosive but hit boundaries at regular intervals to make sure that the RR never got down. In the process, Hardik had to come across a dangerous beamer by Archer and SKY also had to take a nasty blow on his helmet, courtest Archer's knuckleball. Even after being hit on the helmet, SKY continued his innovative approach to the innings as he hit a wide variety of shots in the innings that included but not limited to extensive dil-scoop, six over the keeper. This pair scored 51 runs off the last 3 overs to take the team's total to 193.
All-round bowling effort by MI turnss the encounter one-sided match
RR needed at least 2 of their top-order to fire in order to chase the mammoth 193 but MI bowlers had other plans as they removed 3 wickets in the first 3 overs itself. After 3 overs, the scorecard read 12/3. Boult removed Yashasvi for a 2 ball duck in the very first over while Bumrah saw off S Smith in the second over as QDK displayed excellent glove-work. Rampage was not over yet as Boult continued the spell to send Samson back to the hut with a quick short delivery.
Read Also: Have a look at all young Indian Wicket-Keepers equipped to fill the big shoes of MSD
The responsibility of re-building the innings was on the Buttler-Lormer pair but they also had to counter the ever-increasing RRR. Lormor couldn't really swing the bat freely but after a few initial deliveries, Buttler went after every bowler as completed his fifty in 11th over in 34 balls when the team altogether managed 74 runs. Lormor was dismissed in the 9th over, thanks to a magnificent running catch from Anukul Roy(substitute for Yadav). Buttler's existence was the last hope for RR fans but it too perished quickly as Pattinson saw the end of Buttler's innings with a full delivery.
Since Buttler's departure, RR lost wicket almost every over till they got bundled out. Pollard removed Curran in 15th over while Bumrah saw off Tewatia and Gopal in 16th. Boult couldn't get any wicket in his last over but Bumrah compensated it with Archer's wicket in the 18th over. Pattinson removed Tyagi off the very first ball of the 19th over and he was the last batsman to walk back to the pavilion.
RR was bowled-out for just 136 runs with 11 balls to spare. Bumrah was the best among MI's bowlers with 4 wickets to his name and he conceded just 20 runs off his 4 overs. Boult and Pattinson took 2 wickets-a-piece while Pollard and Chahar shared a wicket each.
Surya Kumar Yadav was given the Man of the Match award for his brilliant batting performance.
Do you want to publish on Apple News, Google News, and more? Join our writing community, improve your writing skills, and be read by hundreds of thousands around the world!
More from IPL – News Landed
+ Have a look at all young Indian Wicket-Keepers equipped to fill the big shoes of MSD
+ Match 19 Oct 5: Shaw and Stoinis take DC to the top of the Table
Popular Stories – News Landed
+ Global warming is altering our Night-Time temperatures
+ Nobel Prize for medicine awarded for discovery of hepatits C virus